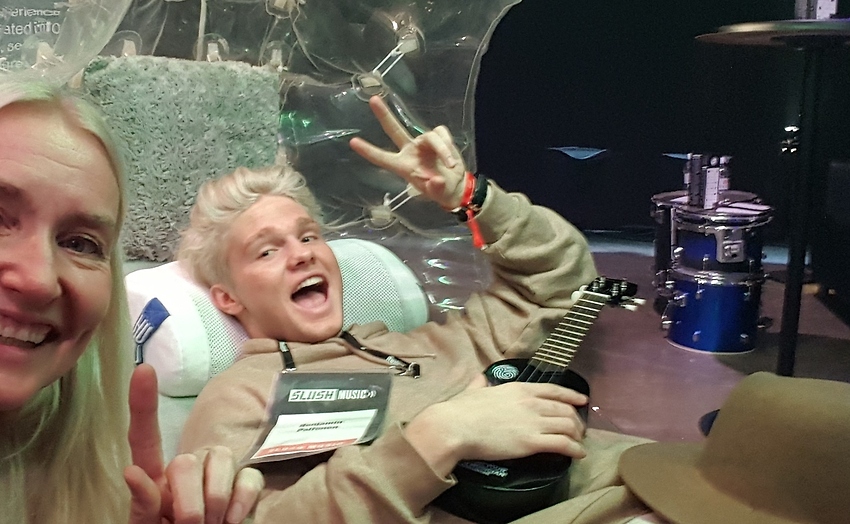 SLUSH is an uncomparable event. Organized mainly by volunteers the inventive event collects thousands of investors, media and start-ups to Helsinki during the worst possible time of the year, weatherwise. People attending SLUSH have seen it all and know what is going on in the wolrd of new innovations and new technology. Flexound was proud to present Flexound HUMU Smart Cushion to this very demanding audience. First time ever we let people touch and feel the prototypes of HUMU. The feedback was amazing and made us very, very happy.
Over 800 people had the chance to test our patented feelsound technology. There was a constant queue to try the Flexound Xperience movie chair and the prototypes of HUMU. Circa 90% of the persons who tried the HUMU Smart Cushion were in awe and the most frequent question was: "Where and when can I buy this?". Among them famous Finnish rock and pop stars like Michael Monroe, Sanni, Samu Haber, Haloo Helsinki and Benjamin Peltonen. Just look at his smile in the picture, and you get a feeling of how great it is when you both hear the music and feel the music!
There are three very lucky persons, who will get the Smart Cushions very soon. We decided to make a lucky draw among our Newsletter readers and among those who tested HUMU at SLUSH. First intended to only give out only one, but delighted by the feedback at SLUSH, we decided give away three unique precious HUMUs. The lucky winners are: Mr Andrew Dubber, Mr Kim Jyueon and Ms Veera-Selina Lajoma. Congratulations to the winners.